GRAASP METHODOLOGY
Event Staff On-Boarding Procedures
Brand Allure's step by step on-boarding process enables us to quality control and measure each individual in the same consistent way. Through this experience we identify great candidates, interview, assess, categorize, train and put the best talent to work!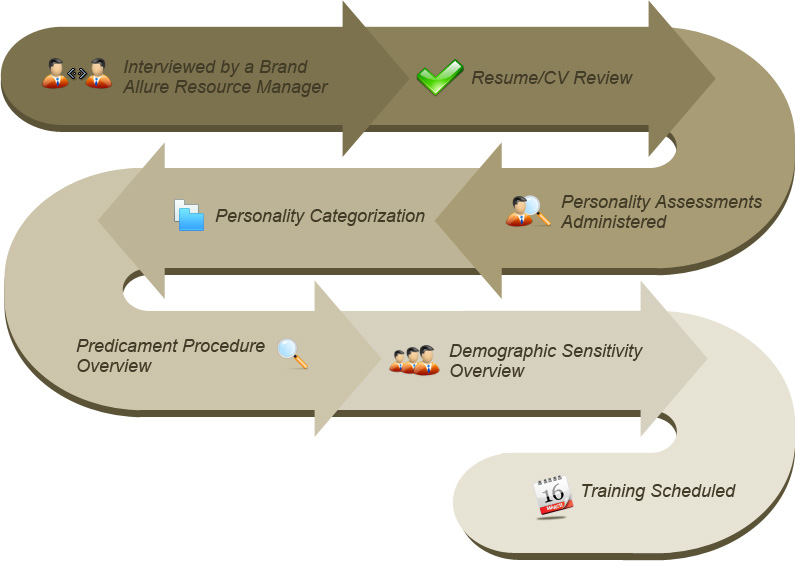 GRAASP Talent
Grading Methodology
Brand Allure developed GRAASP Methodology for selection and categorization of talent. This proprietary six point grading system ensures that the most appropriate person is assigned to your job. It enables our booking team to drill down through six grading layers and yield the most suitable talent selection.
Personality/ Behavioral Testing
Our personality and behavioral grading process includes a qualitative analysis of each individuals "type" formula utilizing Briggs Typology testing methods. The point where the consumer is introduced to the product is extremely important and we take these measures to assure a positive experience
We code test results and categorize under the Sixteen Personality Types. This data has enabled our team to identify the absolute best personality fit for each role that we place.
For example, we know that the ISTJ is a great brand ambassador, having very high standards, being adaptable and mentally quick and able to see possibilities. They are interested in helping people.
The ISTP is always a great candidate for a consumer electronics pop up store. They have excellent skills with mechanical things and are loyal to their peers and their internal value systems. They excel at finding solutions to practical problems.
The INTJ is a great market manager. Being a natural leader and having a very high standard for their performance makes them exceptional in this role. The INTJ's have an exceptional ability to turn theories into solid plans of action.
The ESFP makes for a perfect Whiskey Enthusiast/Ambassador. They are People-oriented and have a well- developed common sense and practical ability and are interested in serving others.
Training
All staffers undergo training prior to being placed on a job. Our proprietary training system covers everything from our in-house rules of conduct to situational procedures and demographic sensitivity.
Nobody can sell your business like you can and we understand that. We understand that in order for you to grow you cannot be everywhere at once promoting your product. This is why we take the time to educate our ambassadors and incentivize them with our proprietary graduated pay tier program & incentive bonuses. This is why we have applicants undergo a thorough personality and service screening so that we have a strong understanding of their personality. Our team works closely with our clients to create brand specific training content and testing so that our staffers are able to truly work as an extension of your sales team.
Staffer Service Evaluations
The same way that you can measure the performance of a mutual fund that a financial institution has invested for you, Brand Allure has implemented a standard staffer service evaluation that remains part of the process after each event is completed. Through this process our system automatically codes and update results in our system and calculates a staffers current standing based on their performance is several key areas. This grading system gives us a blended score based on the service history and provides a layer of accountability ensuring that our program coordinators are able to identify the most fitting and reliable staff for your event or program.

Graduated Pay Tiers
Brand Allure manages a proprietary graduated pay program that incentivizes and rewards staff for excellence in service, attitude, punctuality, pro activity, going above and beyond and length of dedicated service.